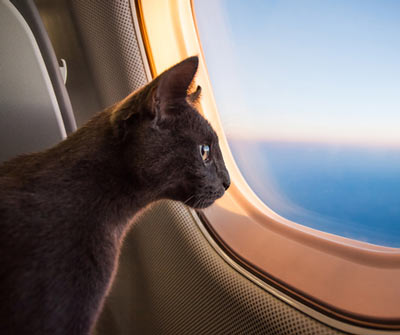 Traveling with cats can be tricky. Most kitties don't really like getting in a carrier and going somewhere other than your home. If you have a cat that likes to see new places with you, that's great. If not, thinking about how to get your cat from point A to point B can be stressful.
If you're thinking about taking your cat on a plane, we have devised a list to help make sure you think of everything.
Your Cat Will Need a Carrier
Cats on planes need to be in carriers. Some airlines have certain requirements for the carriers, so check with yours to find out.
Your cat may need to come out of the carrier while going through security. Having her in a harness and leash is the safest way to accomplish this. Check with your airline before your flight to determine whether your cat will need to be removed from her carrier at any time.
Teach Your Cat to Ride Calmly in a Carrier
If your cat has never ridden in a carrier before or you know she doesn't ride well in one, you'll need to do some desensitization before the big day.
Leave the carrier out, open, with a comfortable blanket inside for a few days. Your cat might wander in to investigate. If she does, praise her with a calm voice or give her a treat. Eventually, you can close the door for a minute or so while she's in there, continuing to use praise and treats. Over time, you can gradually keep the door closed longer and practice carrying your cat around in it for short distances. For more specifics on acclimating your cat to her carrier, read this article: "Training Your Cat To Use A Pet Carrier."
Contact the Airline Early and Be Sure You Understand Their Requirements
Don't wait until the last minute to do this. If at all possible, contact the airline carrier at least a month or more in advance and make sure you understand their cat transporting requirements.
Find out whether you will be able to have your cat in the cabin. If not, check into other airlines. Your cat will be much safer in the cabin than in the cargo area, where temperature changes can be drastic and no one is there to monitor her safety.
Find Out Whether Your Destination Has Special Requirements
States and countries all have specific requirements for the entry of cats. Certain vaccinations and blood tests may be required, and particular timing of these things is often necessary as well. A microchip may be necessary. Many countries have quarantine requirements for incoming cats, as well, so it's imperative that you understand these ahead of time, so you know what to expect.
This website can get you started with information for your destination: https://www.aphis.usda.gov/aphis/pet-travel
For travel to many international destinations, 6 months or more is needed to prepare. Check into this as soon as you possibly can when preparing a trip.
Visit Your Veterinarian within 10 Days of Leaving
A health certificate filled out by a veterinarian with specific licensing to do so is required for a cat's travel on planes and entry into most states. Interstate certificates are good for 10 days.
Special health certificates are required by many countries. These certificates are only good for a certain amount of time after the veterinarian has looked at your cat and signed them, also. Other countries each have their own requirements for timing on these, so you will need to check individually.
To Drug or Not to Drug Your Cat for the Trip
Cats can become quite stressed during travel. Those with certain medical conditions or members of flat-faced breeds may have more problems with temperature and pressure changes as well as breathing difficulties because of stress.
Giving a cat medications to calm her before the trip can sometimes lead to decreased blood pressure and an increased risk of negative medical events on the plane. Speak to your veterinarian about your cat's individual medical needs to determine whether or not sedation is a good idea.
Consider Using a Service
If all of this sounds like too daunting of a task for you, consider using a service to handle it for you. One such business is Air Animal.
You May Also Like These Articles:
Common Cat Behavior Problems and How to Solve Them: Slideshow
Amazing Cat Facts to Know and Share
Stop Doing These Things to Your Cat Right Now
Reduce Pet Scratching Damage While Traveling
How Do I Get My Cat into a Carrier?
Clicker Training for Cats: Come When Called
Notice: Ask-a-Vet is an affiliated service for those who wish to speak with a veterinary professional about their pet's specific condition. Initially, a bot will ask questions to determine the general nature of your concern. Then, you will be transferred to a human. There is a charge for the service if you choose to connect to a veterinarian. Ask-a-Vet is not manned by the staff or owners of CatHealth.com, and the advice given should not delay or replace a visit to your veterinarian.