Training Your Cat To Stay Off The Christmas Tree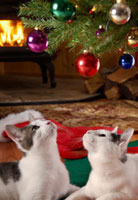 "Cats and Christmas—such a delightful combination . . . Wishful cats eying their stockings filled with toy mice and tins of catnip. Exuberant cats running through a sea of wrapping paper. Coy cats hiding in boxes. Worn-out cats snoozing in front of the fire.
But for cats, the holiday season is also filled with hazards—from visitors who leave the front door wide open, to ribbons that look inviting but can wreak havoc on the digestive system if swallowed. Learn more about how to train your cat to stay off the Christmas tree.