Keep Your Cat Safe and Happy During The Holidays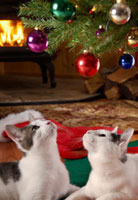 "Home for the holidays." "Thanksgiving dinner." These phrases conjure up cherished memories of family feasts, reconnecting with old friends, and welcome respites from work. True, these same phrases might also trigger angst about harried trips to the mall, relatives who don't get along, and way too many calories. But even with its commercialization, pressures, and occasional heartburn, we generally love this time of year. We feel invigorated, and for at least a while we can envision peace and goodwill.
Thanksgiving, Christmas, Hanukkah, Kwanzaa, and New Year's Eve pose all kinds of risks for cats. But with some planning, proactive safeguards, and a keen awareness of the dangers of the holiday season, you and kitty should have a joyous and festive time—and even sneak in your fair share of catnaps.