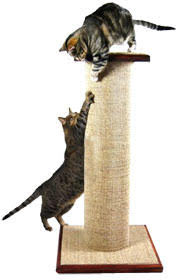 Did you know that the type of material that covers a cat scratching post is extremely important? Cats won't use a scratching post if it doesn't meet their needs. Sisal material is the best cat scratching substrate. Learn more in PurrfectPost.com's article, "
Sisal Fabric: The Best Material for Cat Scratching Posts
."
You can find sisal fabric posts at purrfectpost.com.
You May Also Like These Articles:
Cat Scratching Posts and Maine Coon Cats
Benefits of Multiple Cat Scratching Surfaces
Declawing Cats: Banning Declaw Surgeries
Top 10 Most Popular Cat Breeds
Siamese Cats: An Interview with Fancy Cat